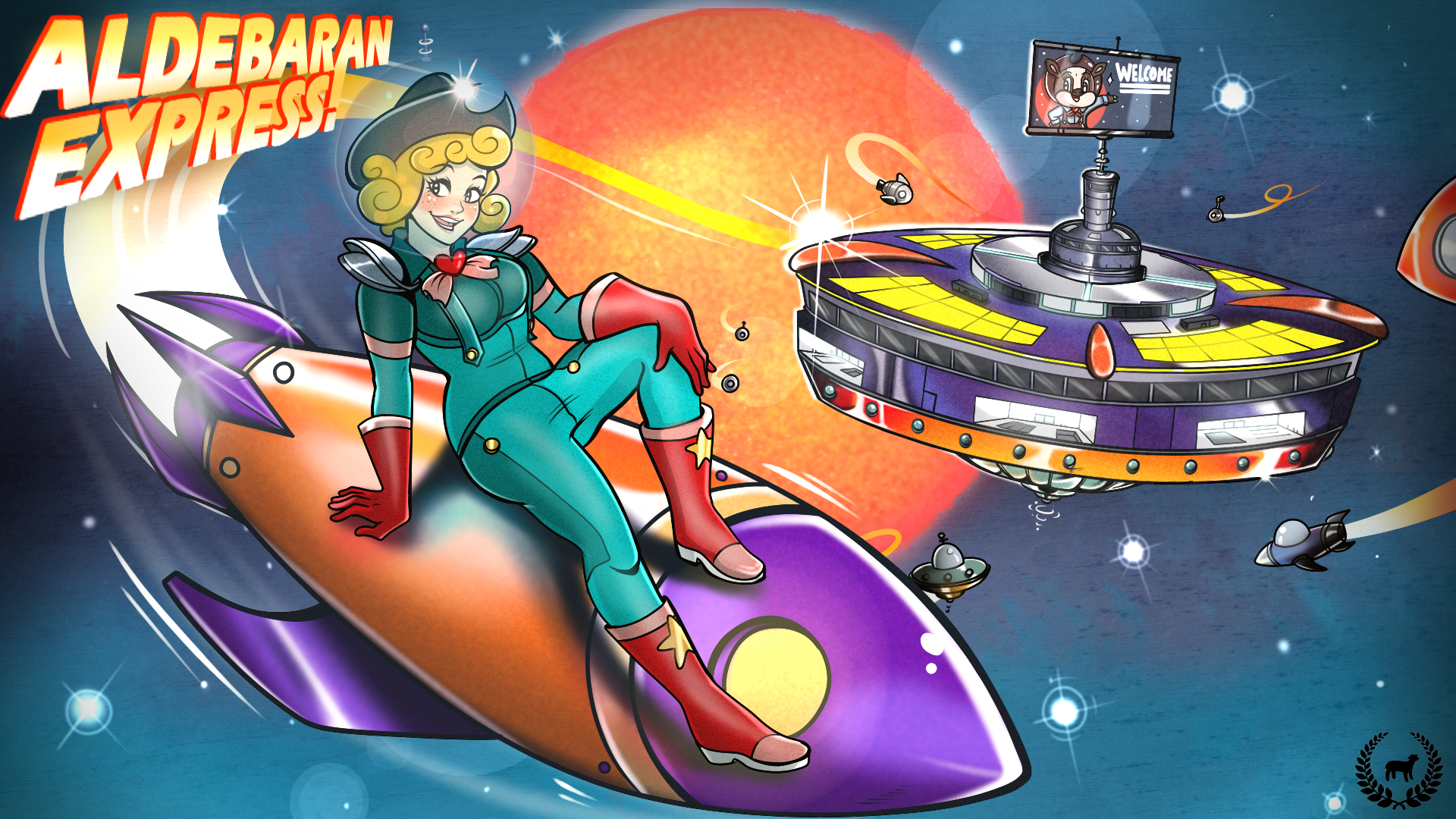 Welcome to Aldebaran Express! Located 65 million light years away east of the Hyades and south of the Pleiades will you find the best lil' place for all your intergalactic convenience needs! Founded in 2082 to meet the demands of the ever increasing interplanetary logistics industry, Aldebaran Express strives to serve the best product and service quality at the best prices for any weary traveller on this side of the Taurus Star Sector! If you are stopping by for a quick fill up, a hot meal, cold drink, shower or resting up for the next voyage, we'll offer a wide variety of selections with all the amenities you'd find back on Earth and her Colonies! Aldebaran Express, the Bull's-Eye of the Universe!
INTRODUCTION
Hello there! My name is Luis Enrique Perez-Toro, AKA Telvy Phil, and welcome to this special presentation of my Senior Capstone project! Aldebaran Express is an experimental, proof-of-concept game prototype, created and developed by me with the collaboration of volunteers consisting of talented content creators and developers from around the world. Aldebaran Express started out as a mere concept prior to the UT Dallas Spring 2022 semester, and I was fortunate enough to utilize Aldebaran Express for my Capstone very early on in its development. While this game is my Capstone, it is also a true passion project that began outside of university, and I intend to expand upon it past graduation.
OVERVIEW
Aldebaran Express is a first person, interactive adventure sci fi game set in a gas station in a fantastical retro future setting in outer space. The game is heavily narrative focused with a very distinct art style combining retro futurism, old American western frontier aesthetics, and a fine vintage 60s/70s anime cel shade look. The game is built off of Mapbase, a community-driven, open source modification of Valve Software's Source SDK 2013. The goal of Aldebaran Express is to create a one-of-a-kind narrative driven gameplay experience. While heavy on exposition, Aldebaran Express seeks to strike a balance of careful pacing, scale, and scope, creating a delightfully short yet sweet single player adventure game experience.
INSPIRATION
Aldebaran Express was conceptualized around a time of uncertainty and crisis with a prior project. I was working on an ambitious game that suffered from a bloated scope and lack of developers assisting me, and the project was eventually shelved for something different. I knew I needed to make something much smaller and tangible in scope, but also something that was very unique and approached to as many people as possible.
Around this time I was also working as a clerk for a gas station owned by Market Street/United Supermarkets here in Frisco, Texas, which the experiences and moments from then on inspired me extensively for this new game I wanted to make. At first the new game concept was just going to be the wacky day to day experiences of everyday life in a gas station convenience store, but I knew it needed something more that wasn't grounded in a normal reality, something a bit less "terrestrial".
I had a fascination with both astronomy and astrology, and that was when I had the idea that fitted perfectly: What if it was a gas station in outer space? On top of this, I knew I wanted a very retro art style stemming from various things that I liked such as retro future sci-fi media, as well as old vintage anime from the latter half of the 20th century. Thus everything began to mesh together with me, and with that Aldebaran Express was conceived.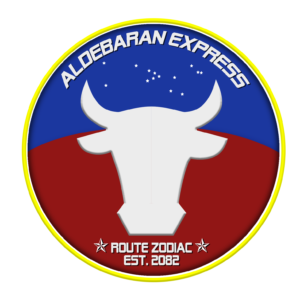 (Aldebaran Express employee badge concept by Sitkinator)
CONCEPTUALIZATION
During the early stages of pre-production I knew that to get the game right was to first get the look of the game right. From the start I focused mainly on imagery, themes, color, texture and shape, and created a series of collages and mood boards, all compiled into a game design document, or GDD for short.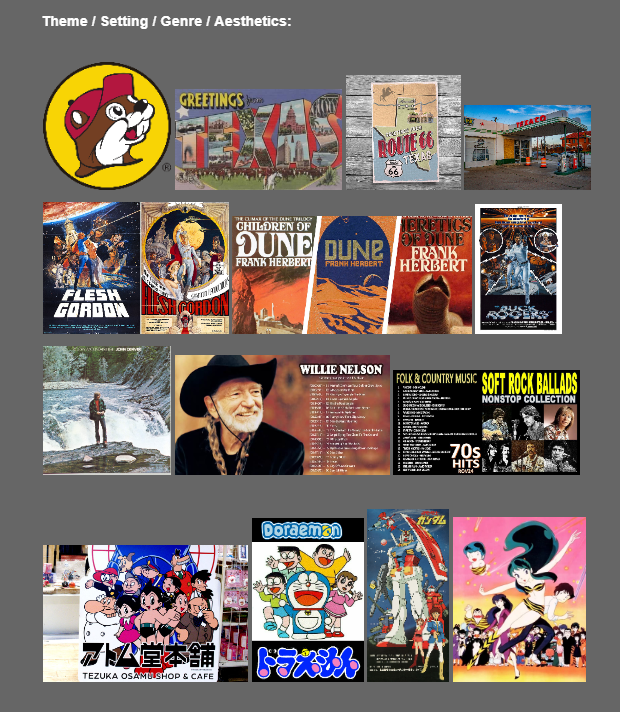 (visual collage excerpt from the Aldebaran Express Game Design Document, written by Luis Enrique Perez-Toro)
When I managed to grasp the idea of the visual aesthetic of the game, I knew it was time to start conceptualizing the actual play space itself. With that said I garnered the assistance of talented concept artists to create designs for the setting of the game, the Aldebaran Express station!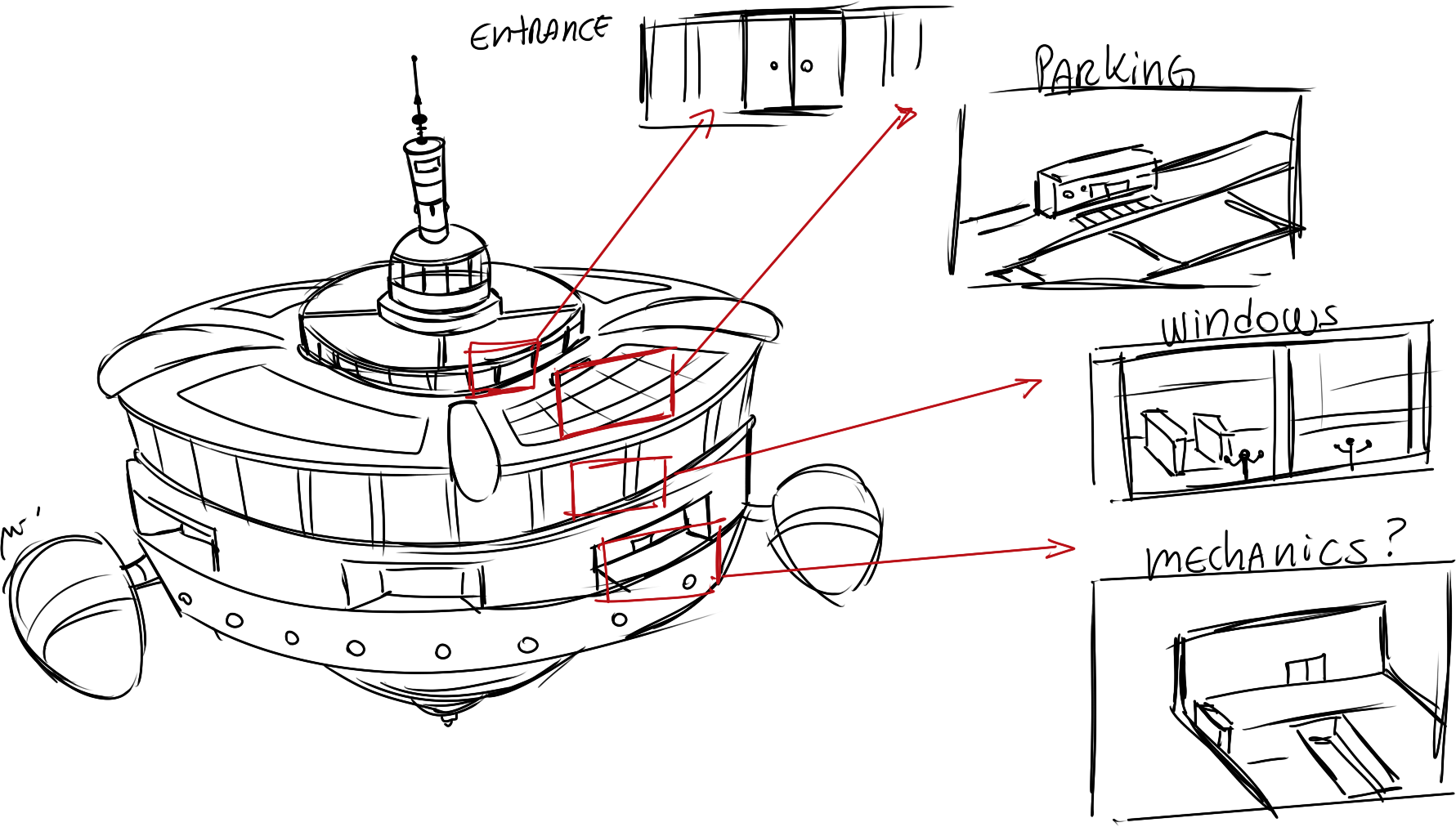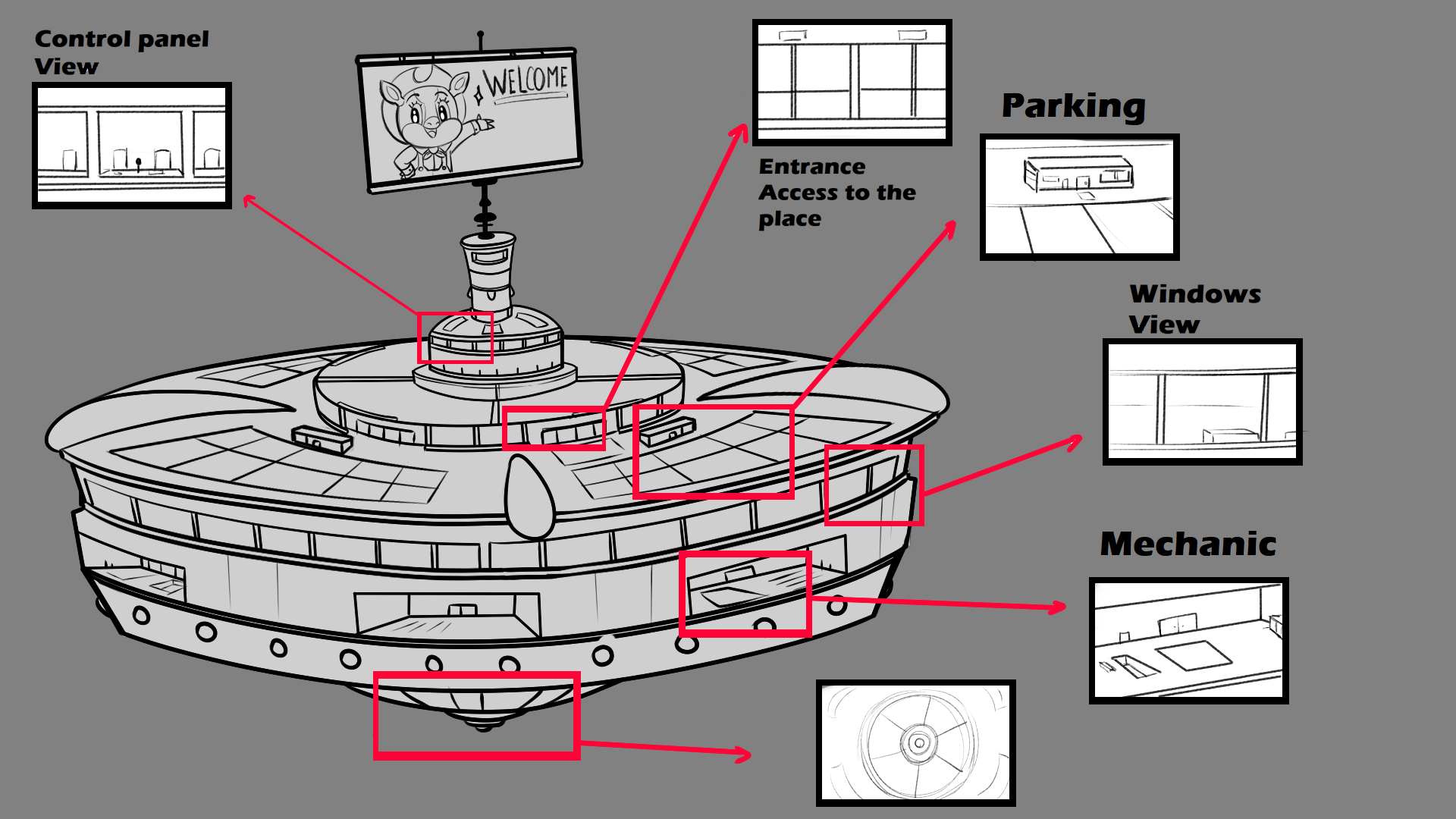 (Aldebaran Express station concepts by Peri Gonzalez)
LEVEL DESIGN
One of the first steps I took in determining the correct approach to level design, spatial awareness and context was the creation of a prototype level that encapsulated the overall look and feel of the game's architectural design, color scheme and visual style.  It was technically not a "vertical slice" in terms of demonstrating everything that can be done in the game, yet one essential rule was placed in order for this level to work: The level had to be a high quality example of what the rest of the game will look like, if I cannot get the aesthetic right for this level, then the rest of the level will not work.
Part 1 – Sleeping Chamber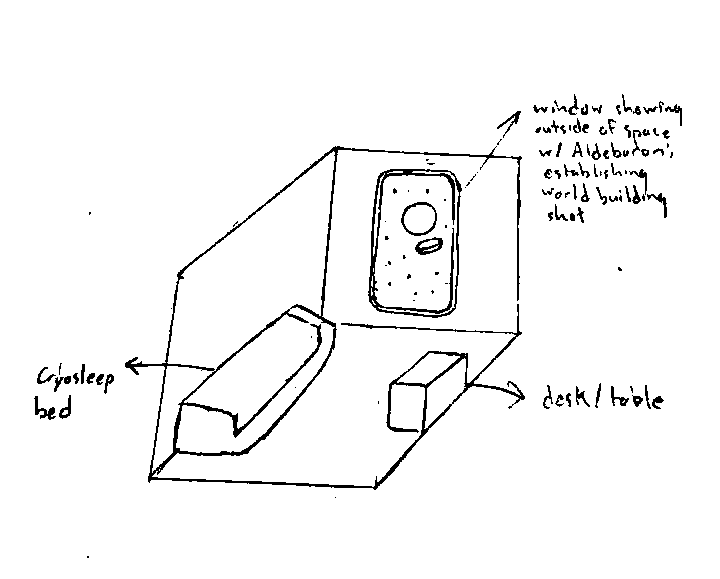 (Sleeping Chamber design by Luis Enrique Perez-Toro)
The level we were going to create was a small sleeping chamber inside a large mining space vessel. This room would serve a duel purpose of being a test bed (no pun intended) for the game's visual style, as well as having potential for repurpose for the beginning of the game. It was a simple room, consisting of a cryo-sleep bed, some furniture, and a large window displaying the large star of Aldebaran and the Aldebaran Express spaceship near it.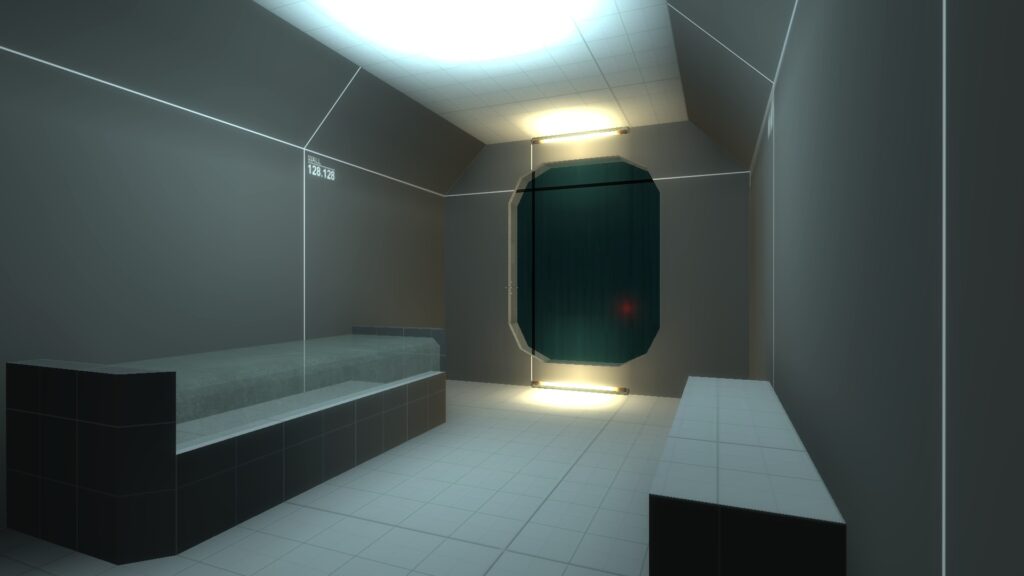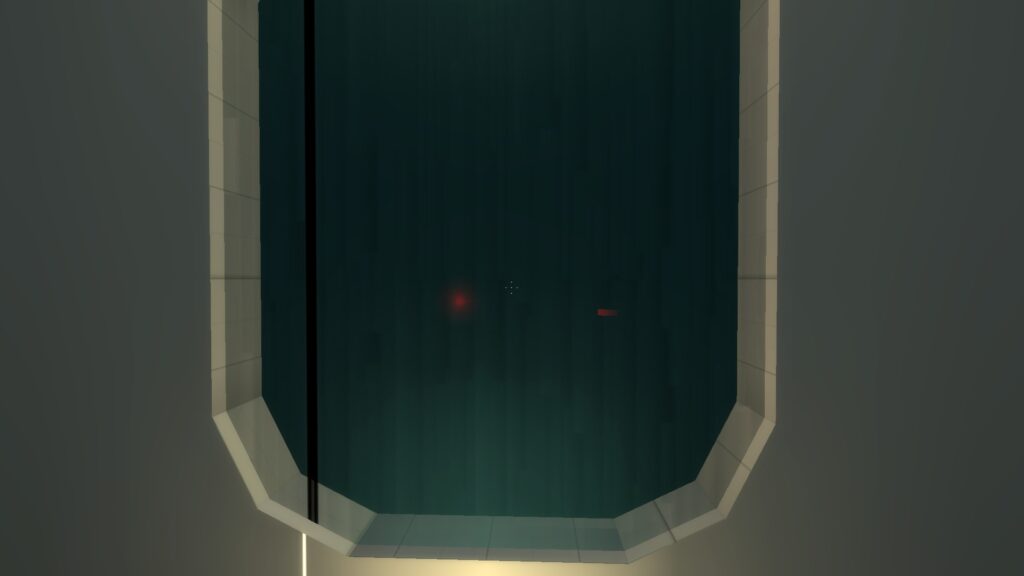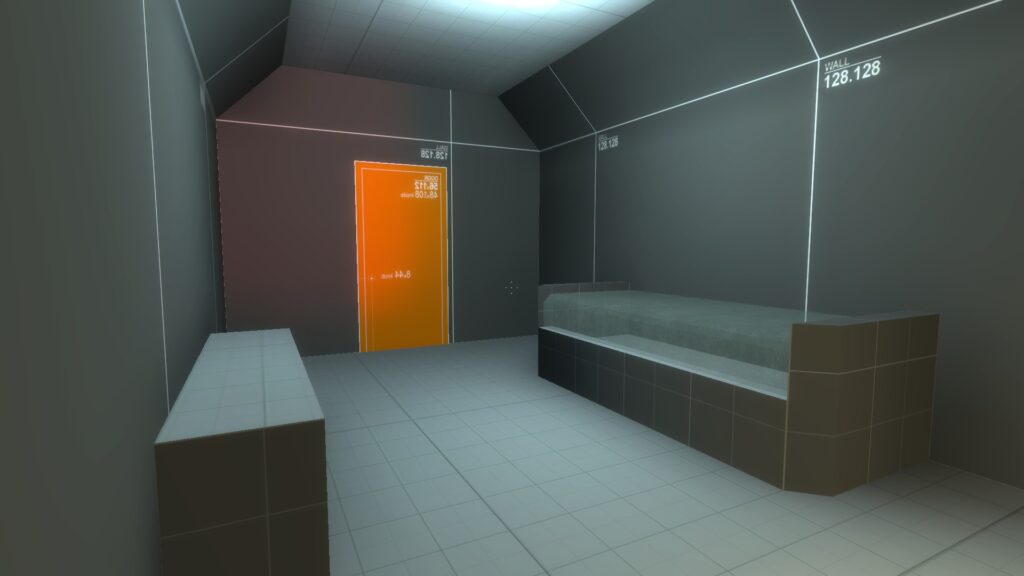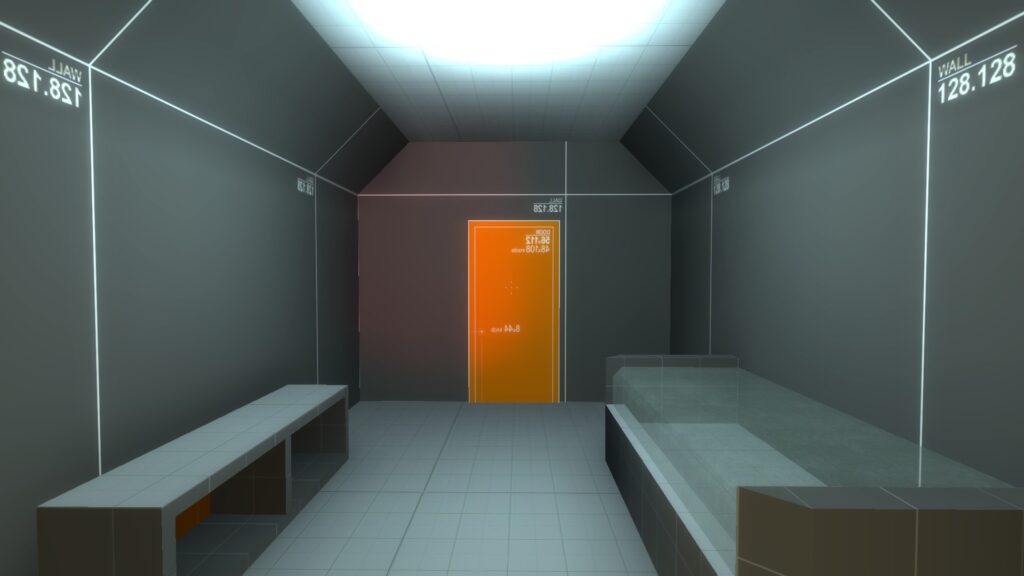 (Sleeping Chamber greybox layouts by Justin Solomon)
The first greybox was a general sculpt to get the general sense of space and depth for the room, and had the essentials needed. From this point on expanding the level was all that's left with detail geometry and basic essential lights.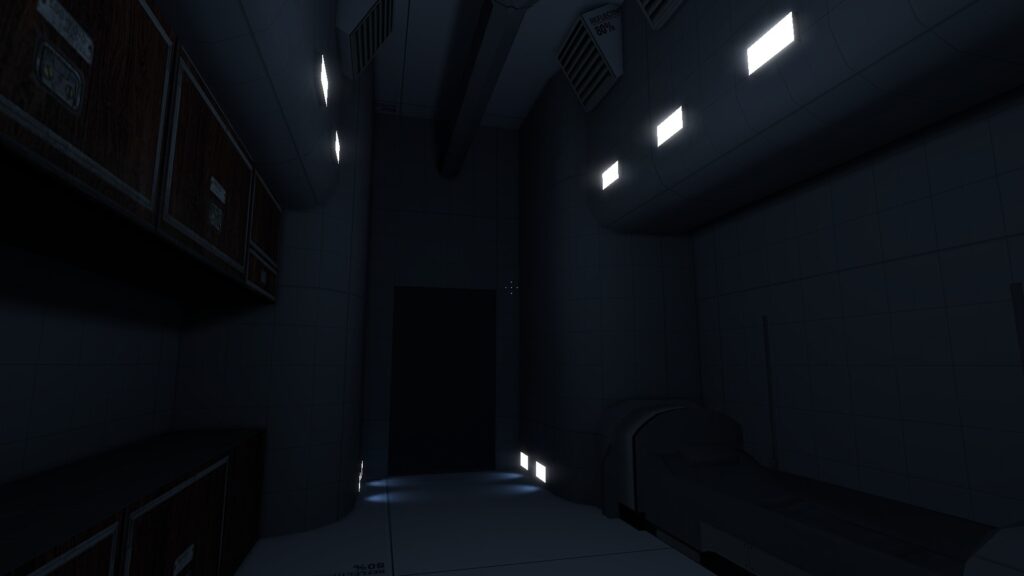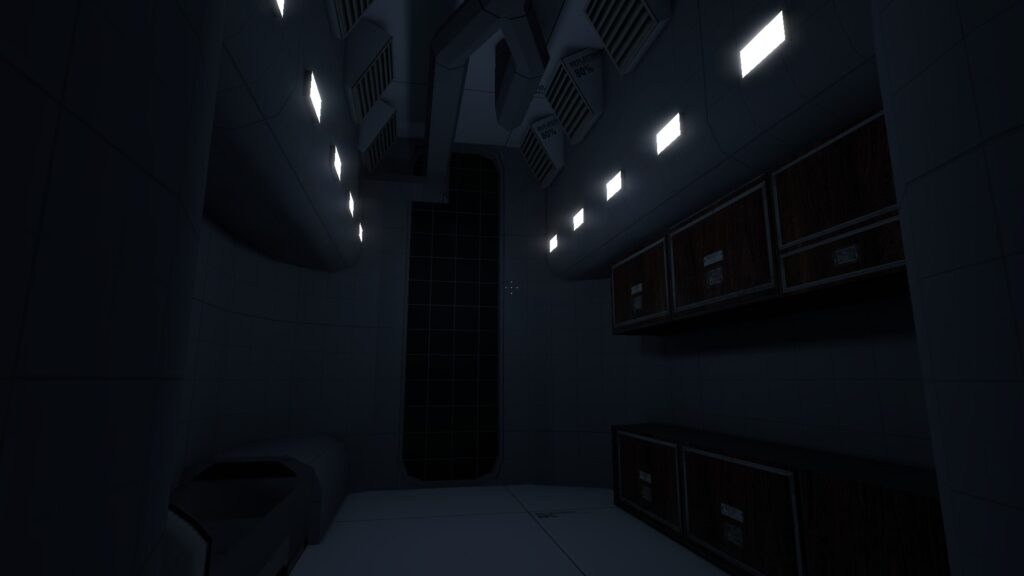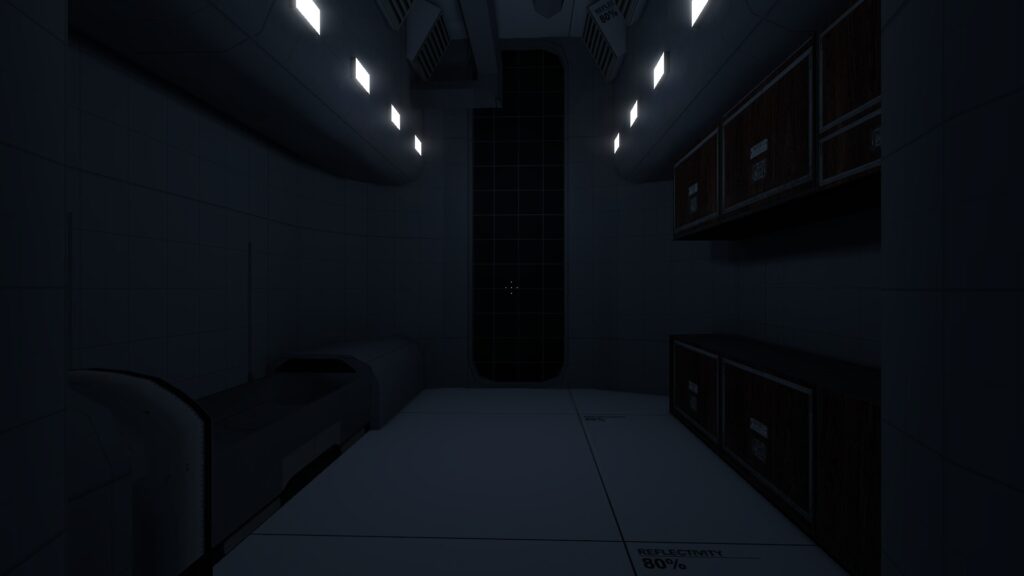 (Sleeping Chamber environmental detailing by Piotr Sikorski)
So far the environment was shaping closer to the aesthetic that we were going for, specifically that vintage space age design. We even managed to get a custom model for the cryo-sleep bed as well that fit in neatly with the rest of the space.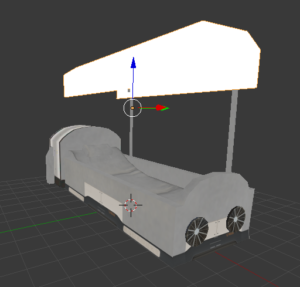 (Cryo-sleep bed by Balder "Nexer" Bordetas)
Overall the shape of the level was shaping up very well, but something was not right with the lighting or colors, so we decided to expand upon that more. One more thing that was essential as well in terms of displaying all of this was also a proper background, or "sky box/sky dome" to surround the whole level geometry. With this texture, the game engine was able to allow the luminosity of the colors to bounce and display across the surfaces of the room, giving it the needed look I was looking for.
(Aldebaran skybox texture by Jordan Pritchard)
After the skybox texture created the next step was simply integrating it into the level and adjusting the lighting according, and so that was the next step and the end results were truly astounding.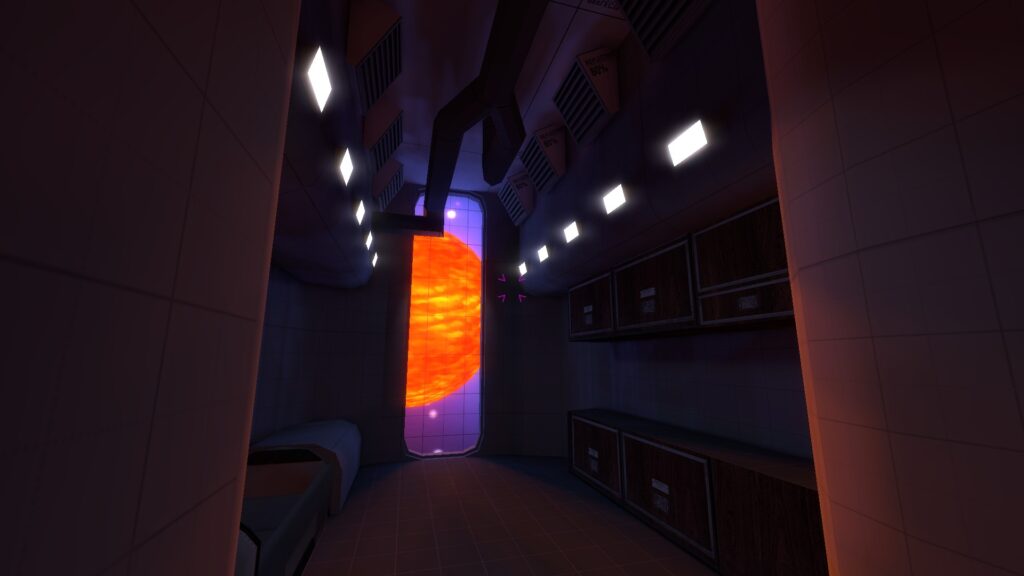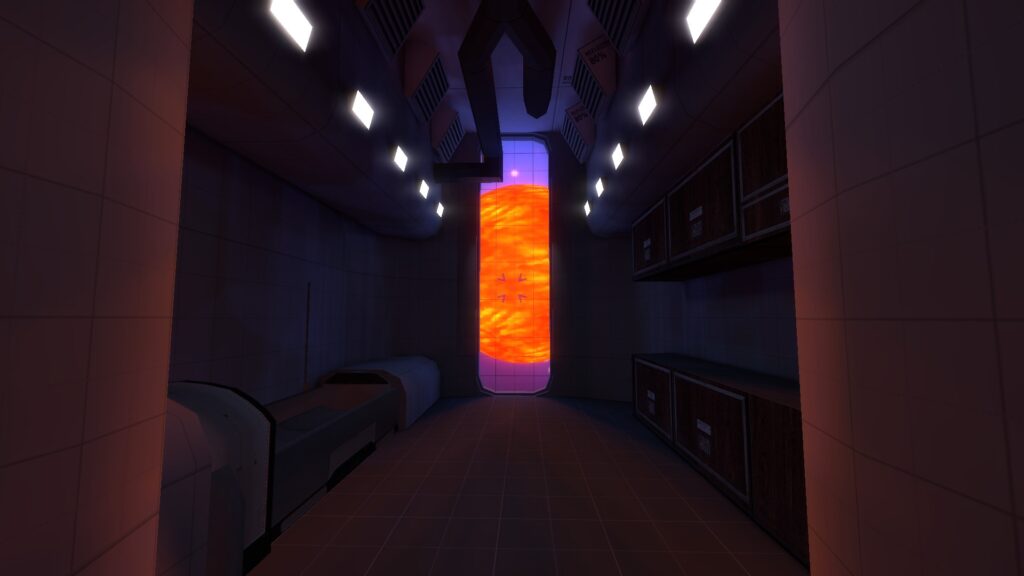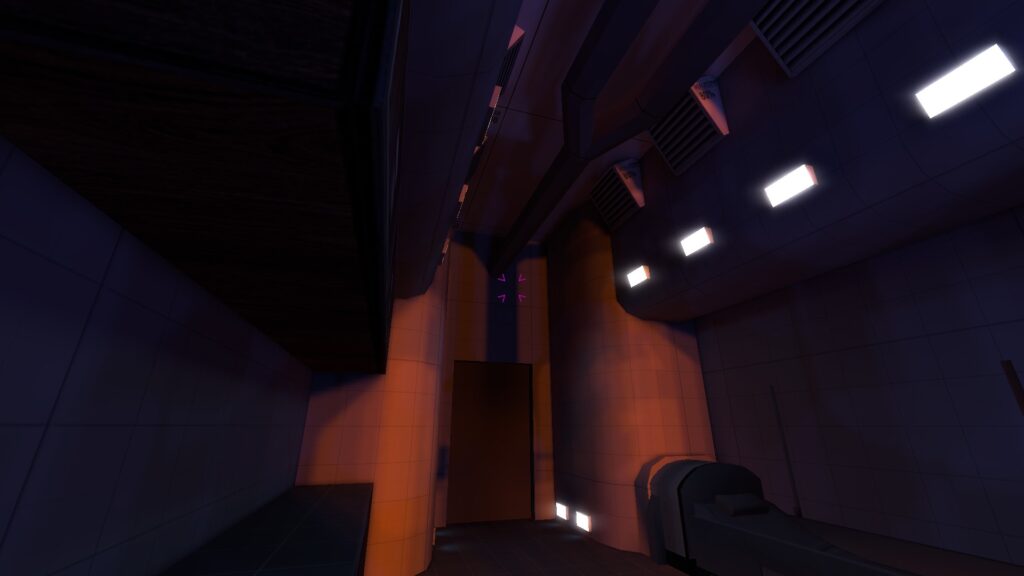 (Sleeping Chamber environmental detailing by Piotr Sikorski)
While the current rendition of the sales floor is technically an unfinished prototype, with missing textures needing to replace the current placeholder developer textures, things were still in the right direction. The next step was tackling the creation of the main level of the game i.e the sales floor of the Taste of Taurus convenience store of the Aldebaran Express space station.
Part 2 – Sales Floor
The Aldebaran Express space station is a multi-purpose fuelling station with numerous departments and levels. At first when constructing the station we went through numerous ideas on how to actually design the interior of the station in contrast to the outside, and how much space we could actually cram inside.
The player would spend most of their time in the main sales floor of the aptly named Taste of Taurus convenience store, yet we had to figure out a way on where and how the player would enter the station.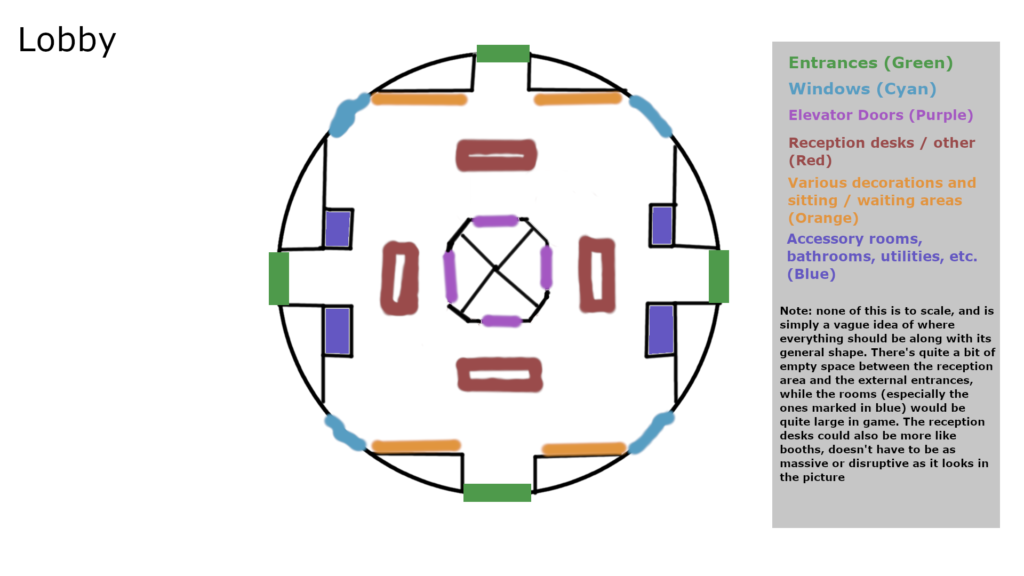 (Station levels white box designs by Justin Solomon)
We started with a number of designs that had to fit the overall elliptical saucer-shape the whole station had as well, and we faced a challenge on whether we should create a separate lobby leading to the main sales floor, or just the sales floor in it of itself. Eventually we just decided to stick to the latter.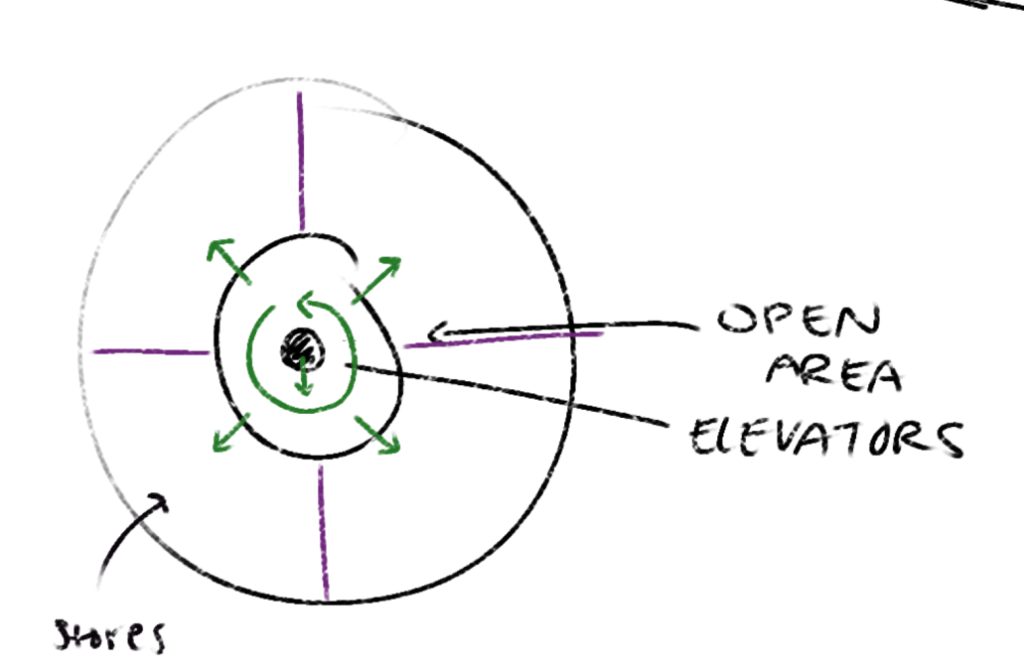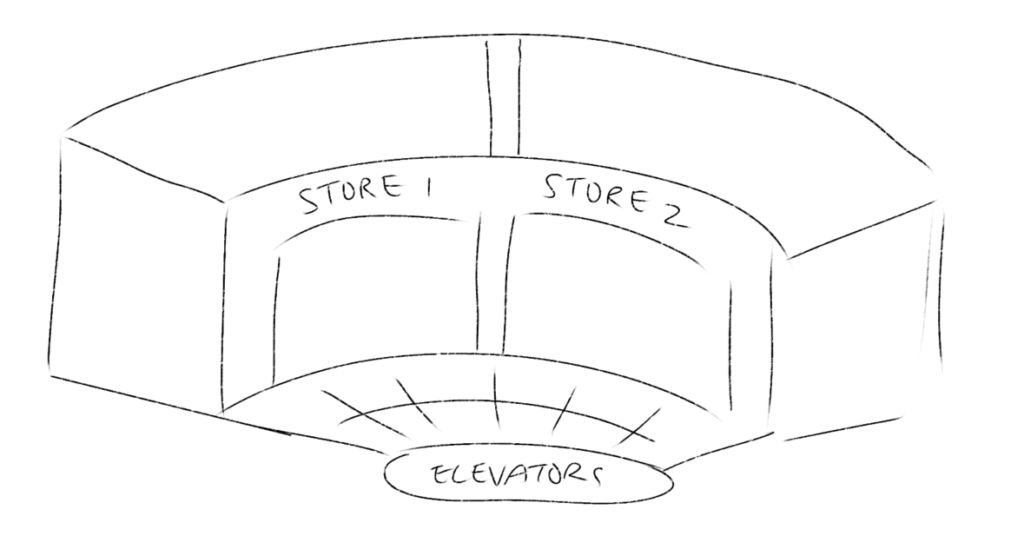 (Sales floor perspective designs by Annie Wu)
In terms of overall layout, we went for a circular interior with department stores encircling the surrounding perimeter, followed by a central elevator in the canter with general convenience goods surrounding it. We knew we wanted all kinds of departments, from a VR arcade, to a cryo-sleep motel, food court, to even a gym and bath house.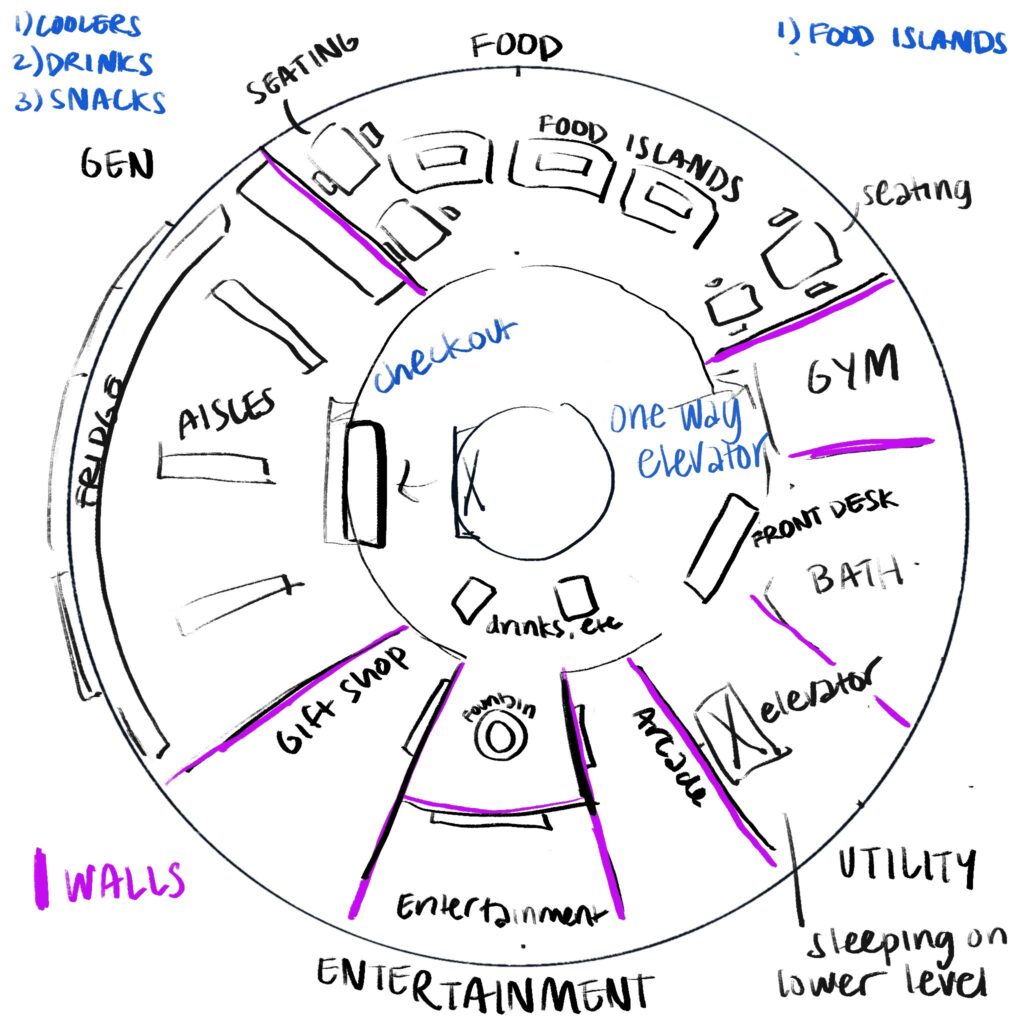 (Sales floor white box by Annie Wu)
Things were going in a pretty decent direction, albeit the actual trouble of fitting many departments into a singular space. Eventually a wall was hit in terms of actually executing any of our designs because of one core issue: Source Engine level geometry is based on BSP, or Binary Space Partitioning, which is great for overall blocky environments, but absolutely disastrous when attempting to create circular spaces.
Unless a mesh was created for the whole environment the process would of been easier, but would get in the way in terms of time and scope. Making it a massive space with everything in the open also proved problematic with potential optimization issues with the Source engine as well. Eventually we stuck to what we thought was best and made adjustments to the layout accordingly and came to a compromise. 
Overall at the end of the development process of the sales floor design, a unique interpretation of the designs were made and the following results turned out better than expected: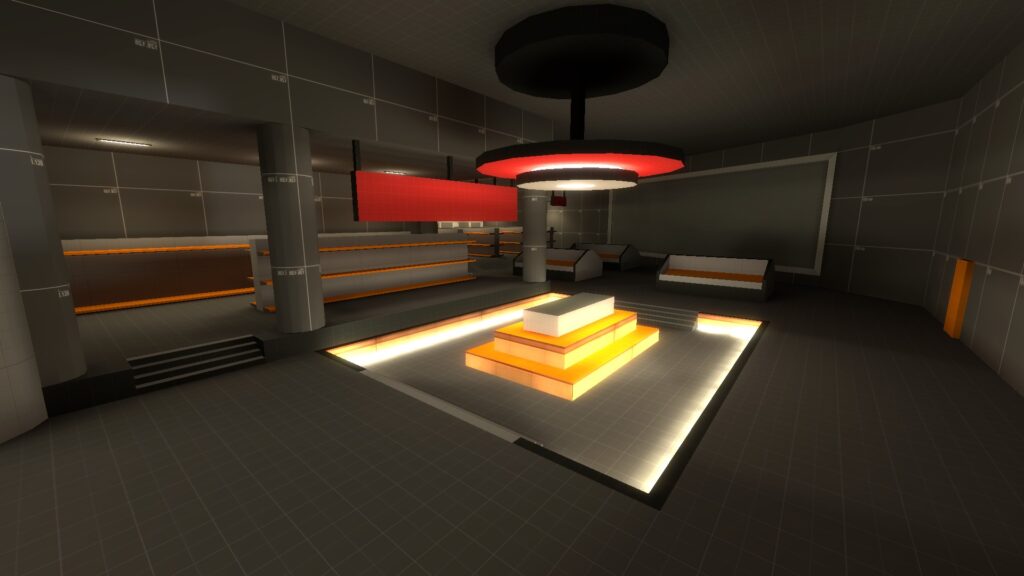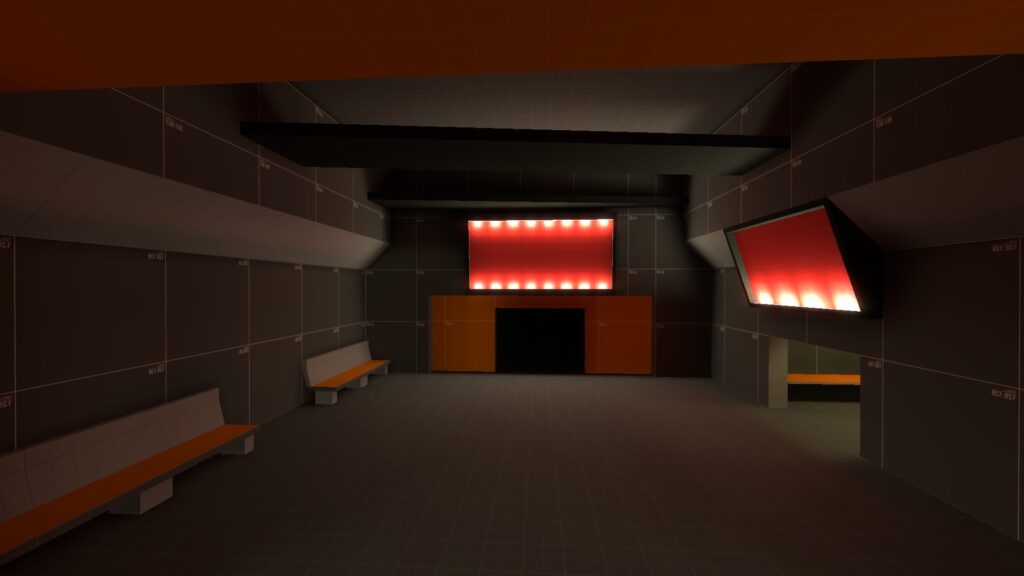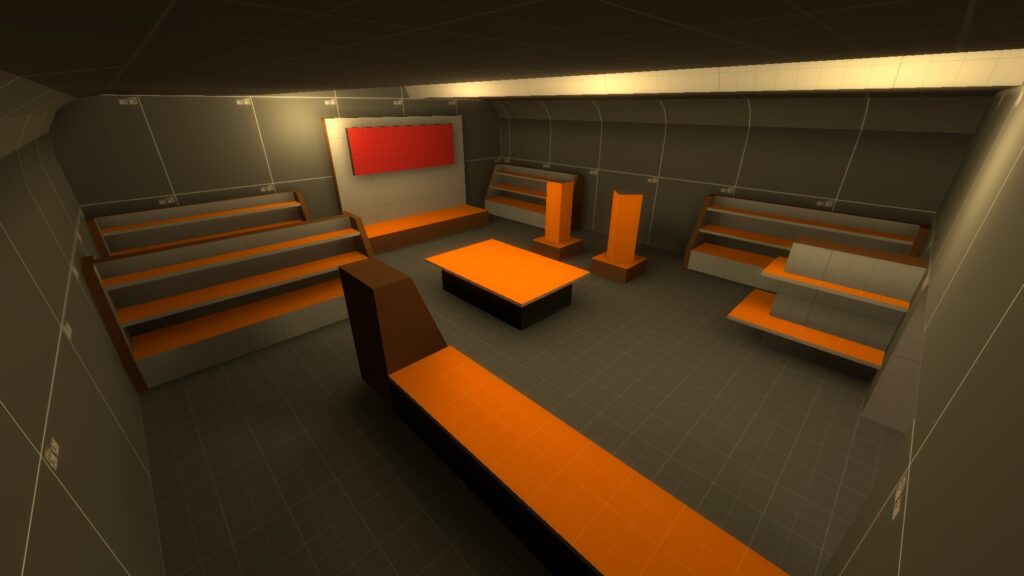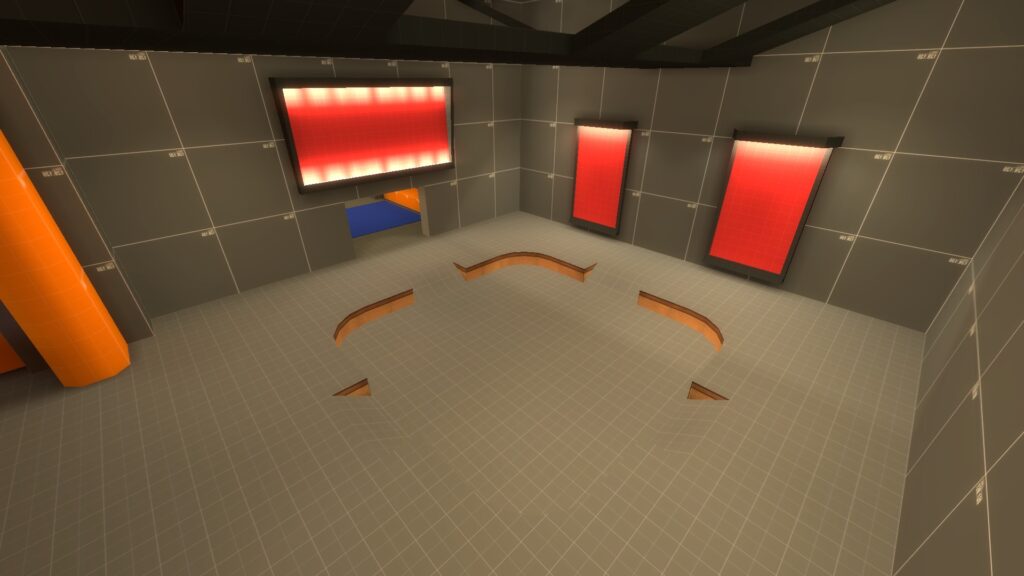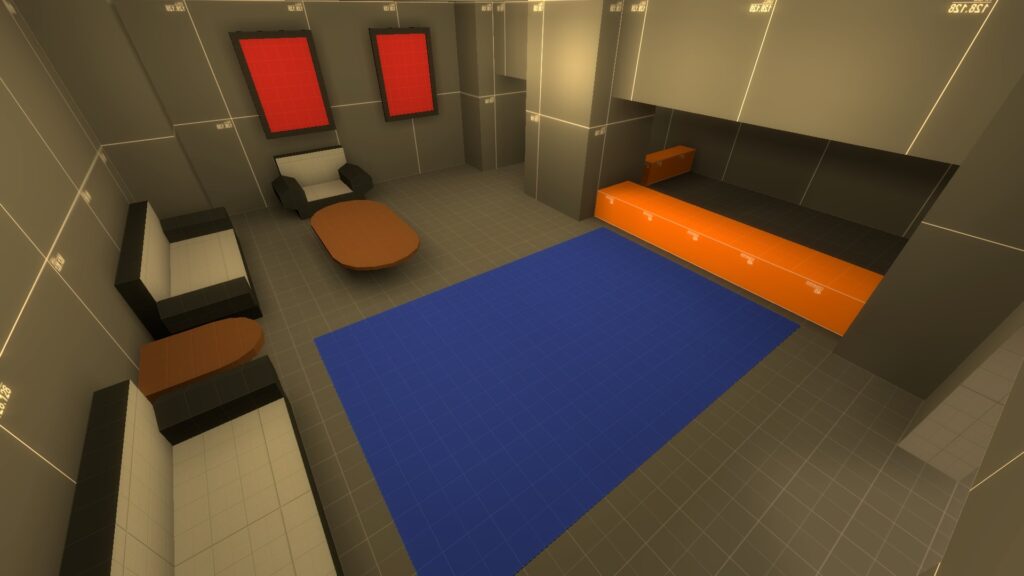 (Taste of Taurus sales floor by Piotr Sikorski and Justin Solomon)
CHARACTER CAST
Aldebaran Express is a narrative driven experience focused on character interaction, and a narrative set in a relatively enclosed space that the player will spend 90% of their time with. Set in such a compact spatial constraint, I needed to create a cast of diverse, well written characters, each standing out from one another and each having their respective niche role within the Aldebaran Express space station.
The Cast of Aldebaran Express!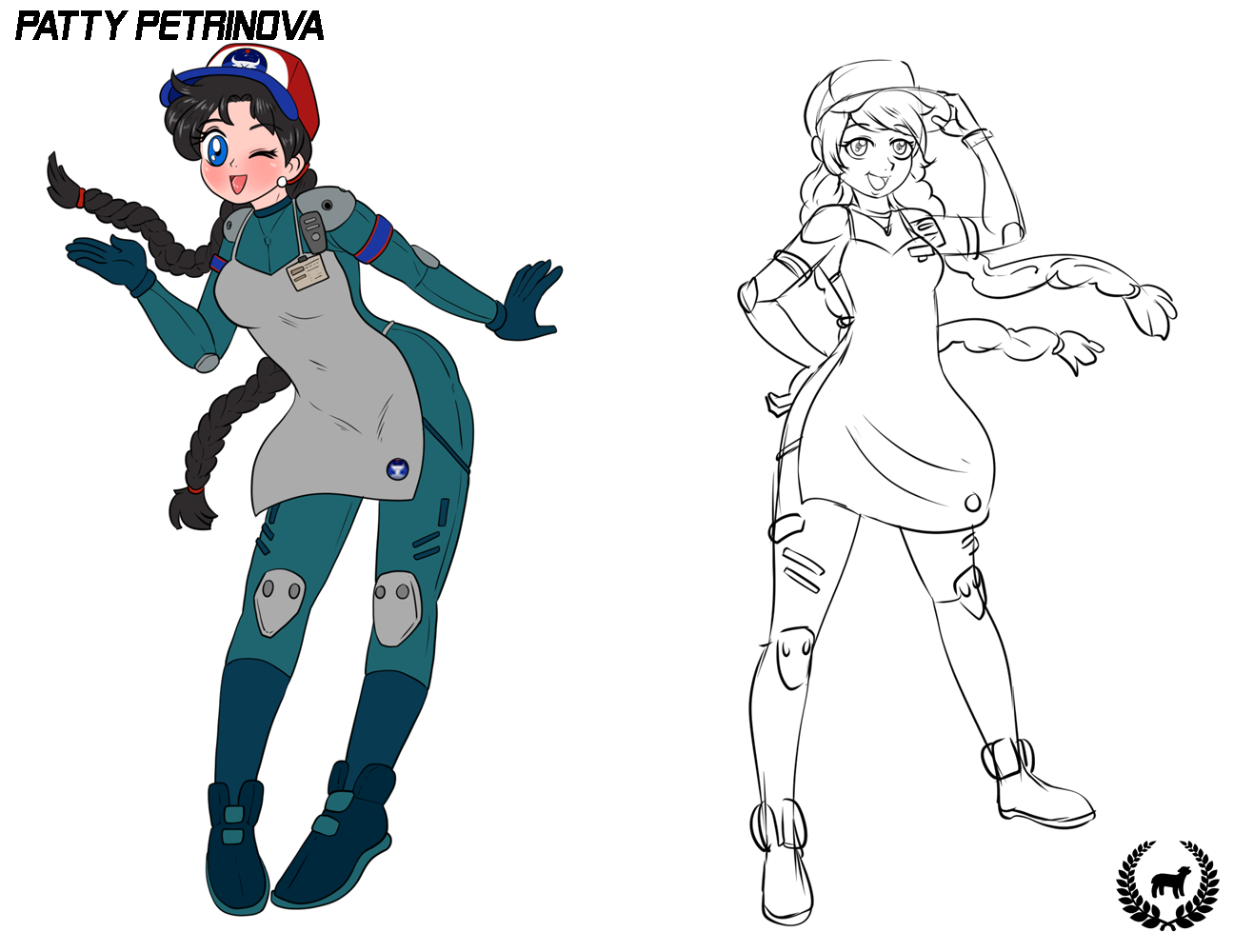 (Patty Petrinova concepts by Luichemax and Fata Morgan, respectively)
Patty Petrinova: Patty Petrinova is the quintessential in-house poster child of Aldebaran Express and an integral core member of the main Aldebaran Express cast. Patty is an energetic, bubbly and optimistic young female clerk for the Aldebaran Express Floral Department. She is full of spunk and charisma, and while her infantile and clumsy personality may offset her appearance as a dunce, her fierce attitude and tomboyish demeanour sets her apart as one of Aldebaran Express's most hardworking and rigorous staff members.
While Patty is hard at work sorting, cutting and watering flowers with her older colleague Ms. Beth, she will often go around the store assisting others in her down time, and especially loves to hang out with her "bestie" Kiesha Williams. Patty loves to interact with anyone and everyone and tends to get in everyone's business in a child-like way.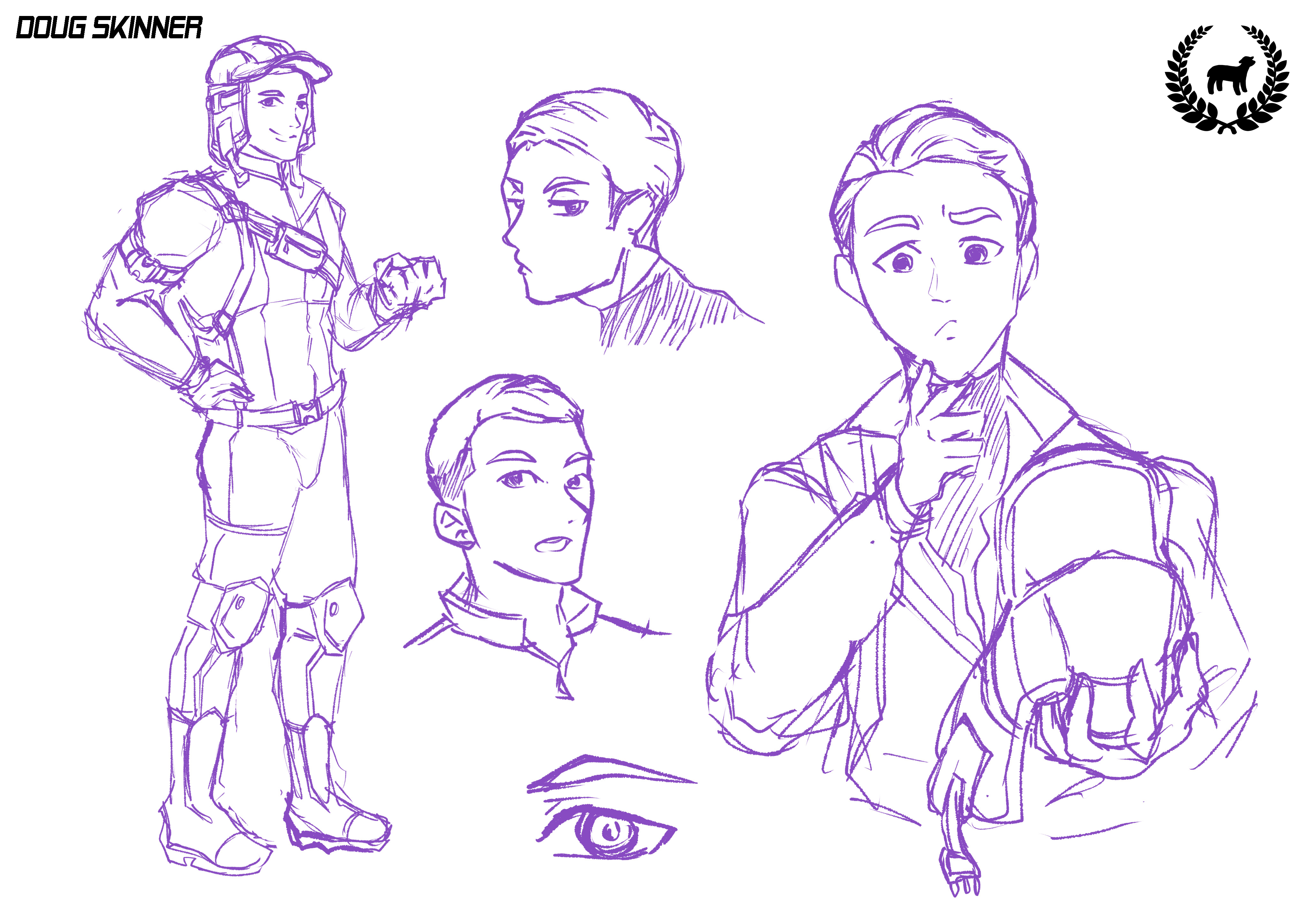 (Doug Skinner concepts by Fata Morgan)
Doug Skinner: Manager of the Aldebaran Express Taste of Taurus convenience store, Doug Skinner is an upright while oftentimes distracted and disorganized member of the Aldebaran Express cast. Doug is polite while reclusive, oftentimes burdened by much of the store's staff causing him to be fatigued most of the time. Doug, while capable of managing himself, can oftentimes let himself go within various cases of misfit and misbehaviour that ensues in the store, preferring quick and messy solutions than long term solutions.
Doug is an avid gambler and knows how to have a good time with what little available is there on hand. You can find him playing lottery scratch offs a lot even on the sales floor. It gets on the nerves of the station's chief security officer Mallory Hafeez.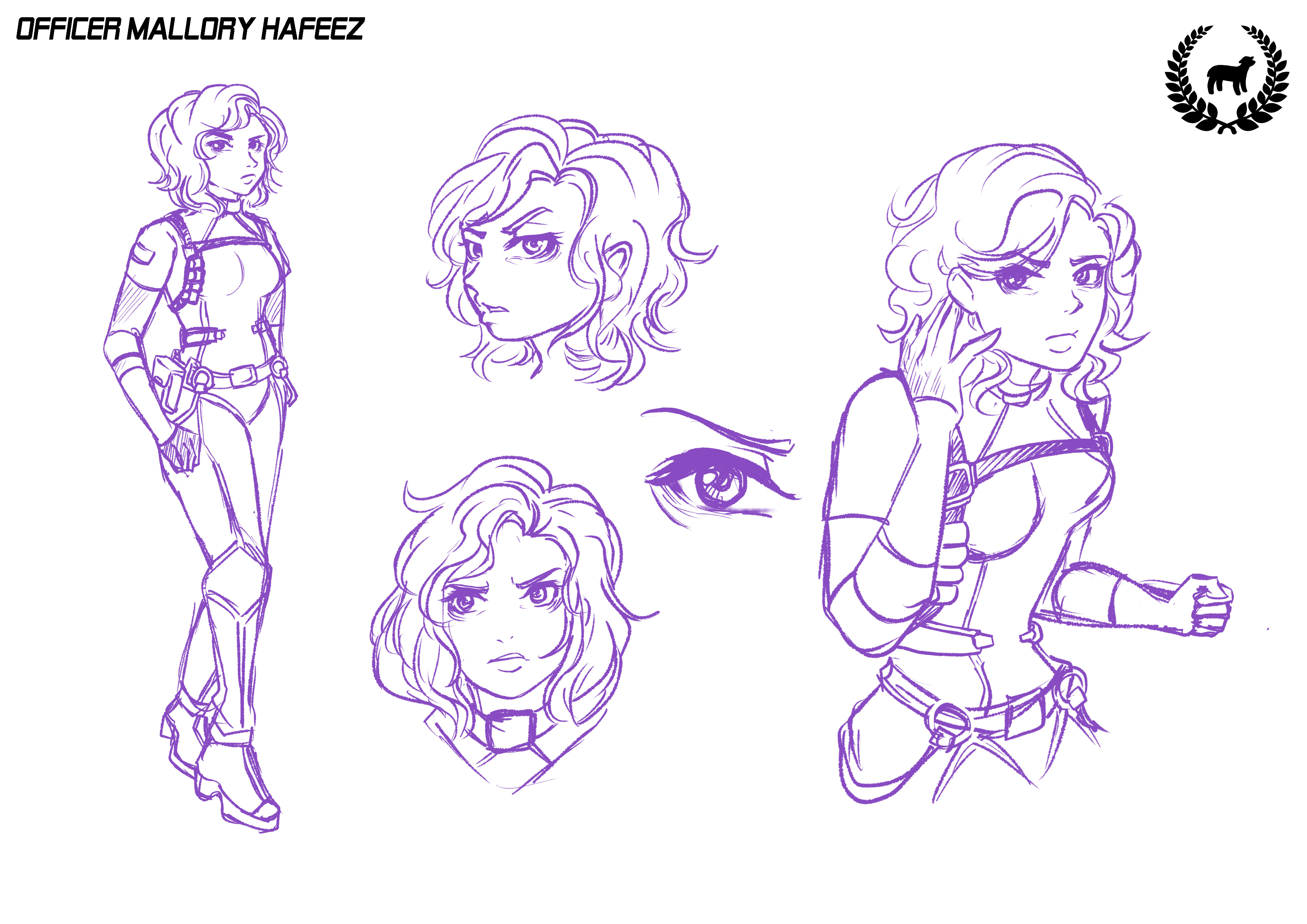 (Mallory Hafeez concepts by Fata Morgan)
Officer Mallory Hafeez: Mallory Hafeez, mostly referred to as Mallory by the general Aldebaran Express staff, and formerly known as just Officer Mallory, is the chief security officer of Aldebaran Express. Mallory is oftentimes seen as bitter and sour to most of the staff, but much of it is due to a combination of her sarcastic attitude when dealing with petty issues on the station and the overall burdens of her job. Due to the stressful conditions of her work, considering she is the only security officer present on the station, Mallory is constantly sleep deprived with chronic insomnia. Mallory smokes a lot of cigarettes too.
While Mallory's cranky appearance may turn away some, in actuality she takes her role in protecting others extremely seriously and will oftentimes go out of her way to handle the situation at hand, even if she knows she'll hate it. Aside from her job, Mallory can be very nonchalant and have a sense of humor. Try to keep an eye on her when she's on the verge of passing out in rare instances too.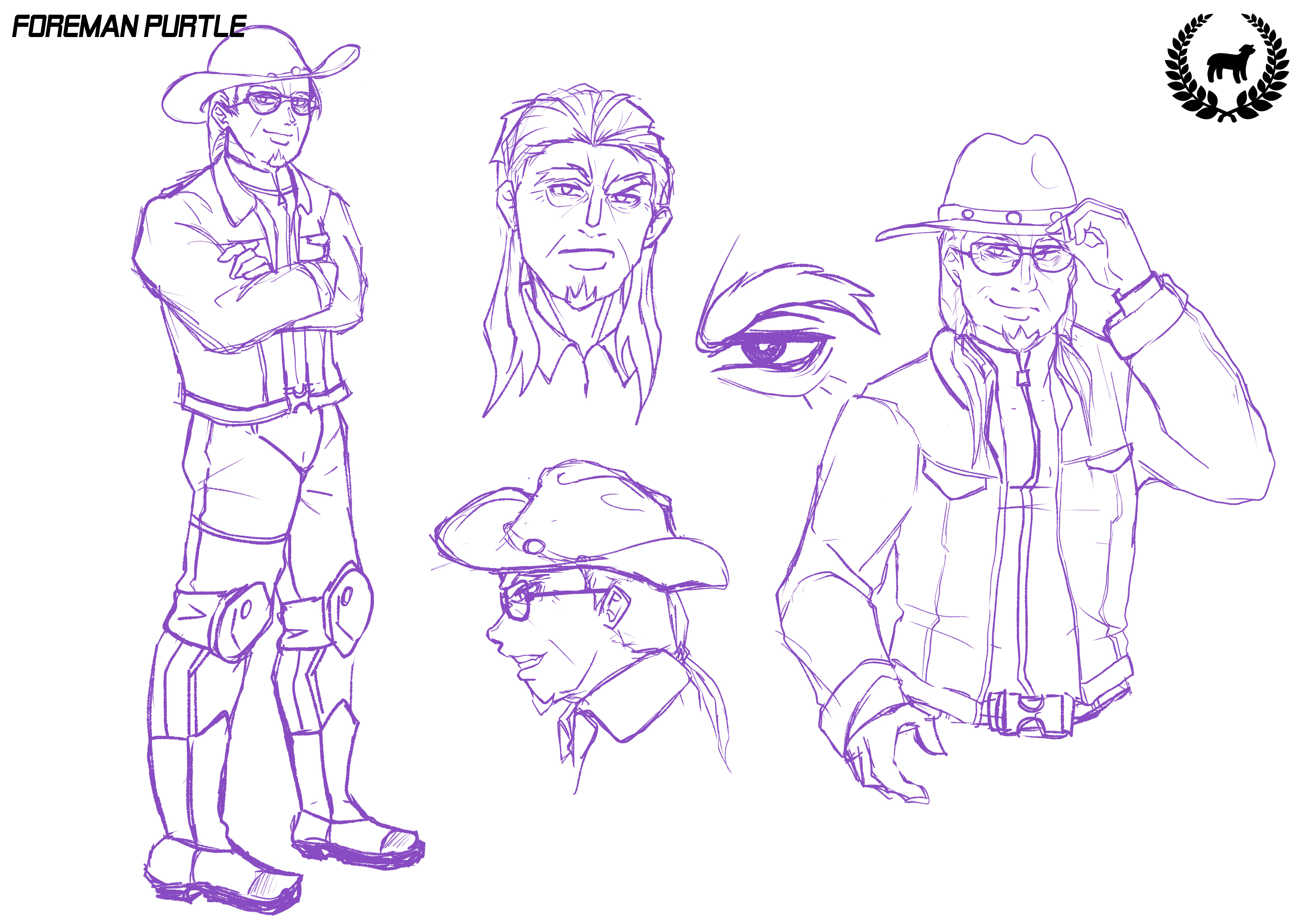 (Foreman Purtle concepts by Fata Morgan)
Foreman Purtle: The first major character seen in the game, and a welcoming one at that, Foreman Purtle, also known as Kevin, is the foreman of the Flare Personal Transport vessel that guides the player to their early destination. Foreman Purtle is a mild mannered and stern gentleman with many years of experience in the star mining industry. 
A Second Texas Republic native, Foreman Purtle has the grit of an old western cowboy with the ambiance of a free spirit, acquiring a soft spot for those barring through the arduous struggles of life in the stars. When trouble strikes he is the first on the scene, and is always the last out in a situation. He is a well respected individual both in his mining ship, and across Route Zodiac, and is a regular and familiar face at Aldebaran Express.
(Keisha Williams concepts by Fata Morgan)
Keisha Williams: Keisha Williams is main hostess of the Aldebaran Express Sleeping Calf Cryo-sleep Motel, and main "bestie" to Patty Petrinova. Keisha is a soft spoken, mild mannered and kind hearted individual compared to her bestie counterpart Patty. A very empathetic and altruistic character, Keisha cautiously and meticulously tends to her job, taking extra care of her guests with grace and care in every waking moment. 
Keisha is oftentimes regarded as very "motherly" and mature for her age around customers and staff members. Much could be attributed to her life raised by her grandmother in more traditional, conservative American Southern ways. When she is with Patty hanging around the station on off-hours, you'll see another side of her character having the energy of a youthful teenage girl, full of joy and spirit.
3D MODELLING
Most of the gameplay of Aldebaran Express will be talking with characters up close and personally, taking care of quests and engaging with them during the narrative experience. Each character needed to be of high enough detail supported by the Source Engine, while optimized enough to not hinder performance. Each character needed to be in the right proportions, and each element of certain body parts meshed accordingly to be supported by Source's choreography technology.
On top of that, it was better practice to only focus on a set number of test models instead of making each character one by one, preferably one male and one female model for testing purposes since different humanoid models in the Source engine use different rigged bipedal bones.
With that said, creating character models is time consuming with the time I had for Capstone, so I focused on one character only, and that character being non other than Aldebaran Express's poster child, Patty Petrinova!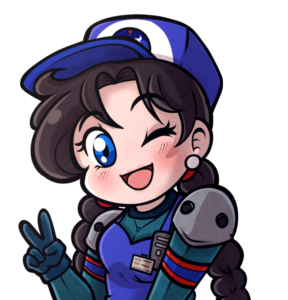 (Patty Chibi design by Peri Gonzalez)
Step 1 – Basic conventions
I gained the assistance of a 3D modeller by the name of Irina, a talented character modeller from Ukraine who helped in the creation of Patty's character model. The first steps more than anything else was to carefully instruct her on the conventions she needed to take on the creation of the model considering the limitations of the Source Engine. The biggest rule of the matter was that the character needed to be 15k to 20k vertices to be of good performance and high enough detail for Source. With these in mind, Irina went to work accordingly.
Step 2 – Initial Sculpt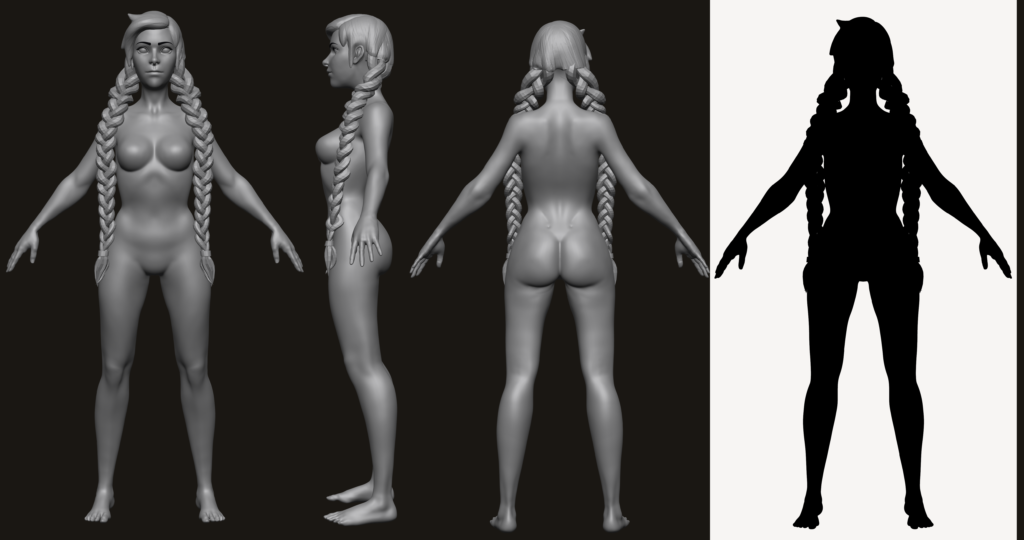 The initial sculpt was relatively rough in terms of body proportions and scale, yet set the foundations for the overall silhouette of the character were set in place. The hair was also excessively long and the detail too much. Eventually though everything came to balance out.
Step 3 – Establishment 
After continued feedback with Irina, the initial sculpt was expanded and refinements to the general proportions were made establishing the general style of the character mesh. We worked closely together in also getting her wardrobe correct as well and establishing the needed elements of her character such as the suit, trucker hat, and apron.
Step 4 – Retopology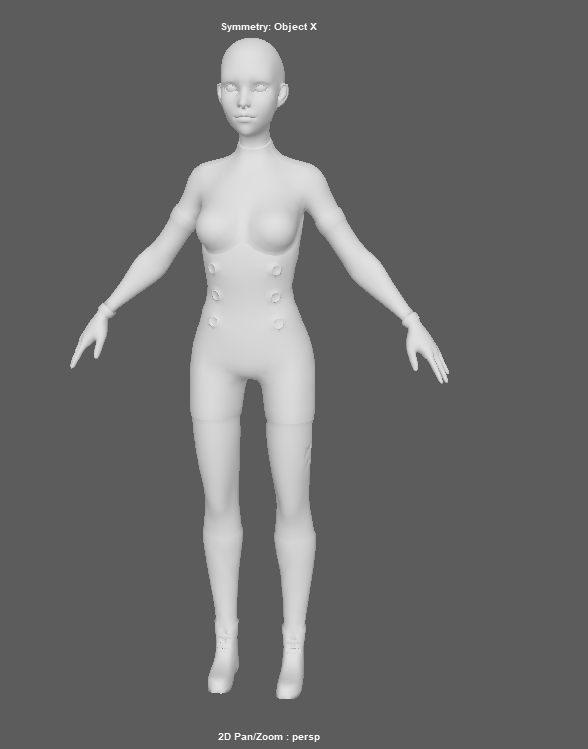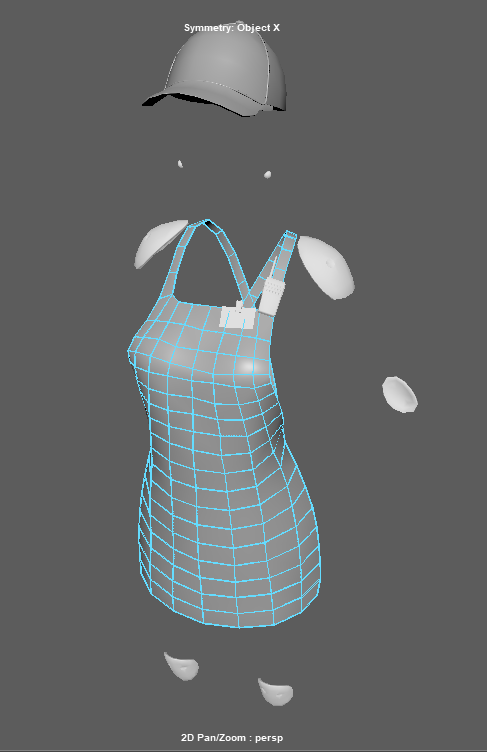 Gradual optimization during the development process was key, and so our next step was retopology. Irina proceeded to take the information I gave her in regards to the modelling conventions given, and proceeded to downsize the polycount of various pieces on Patty's body such as knee and shoulder pads and the apron.
Step 5 – Hair
One of Patty's core characteristics in distinguishing her silhouette from the rest of the cast was her iconic long double braids. The initial version of the hair was very rough, often having a very "doughy" appearance that didn't appear right, and so Irina took careful steps in ensuring the hair was in the right spot in terms of appearance and size. She even shortened it as per feedback request, and the end result was much more appropriate than the initial version.
Step 6 – Texturing
The final step needed for prototype presentation is texturing the body, specifically the skin, hair, facial features, suit and other apparel details.
Final Work-In-Progress Result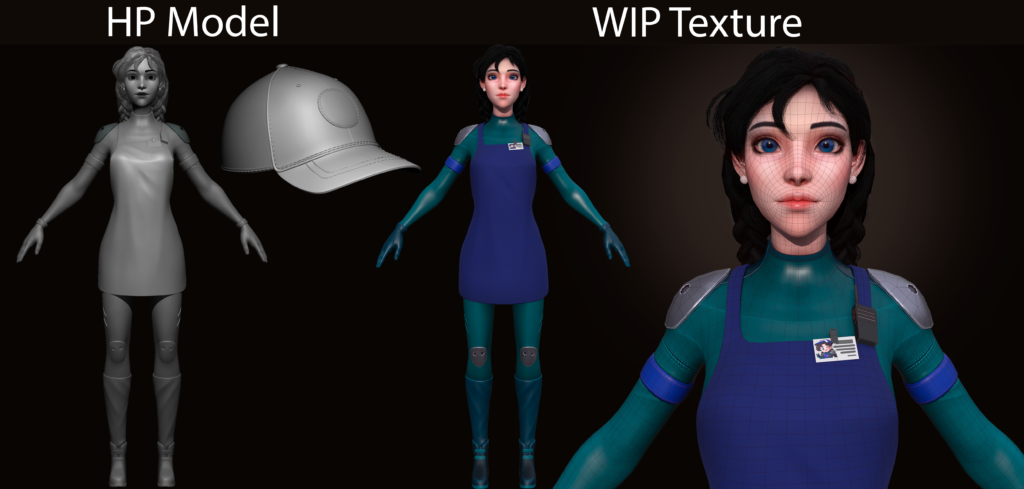 The final result of Patty's character model was a very rough but very well established prototype model. As it stands, the model still has a long ways to go before being properly game ready, yet the core of the model in terms of color, proportion and appearance are sound in form.
All that remains is getting the texture style right, and detailing the rest, followed by a final optimization phase, and then later porting it as a game ready asset for the engine, which is another process in it of itself
CONCLUSION
Aldebaran Express has been a very fascinating experience not just for my Capstone for UT Dallas, but also for the  development of my skillset involving project management and team coordination. It has been a passion project for some time and it has been the accumulation of not just the skills and experiences acquired through my time at ATEC, but the accumulation of passions and goals for most of my life
I plan to utilize Aldebaran Express for my portfolio in the future and I plan to keep working on it past graduation. The central goal of Aldebaran Express past graduation is to create a playable demo released to the general public. While the initial plan was to create a small playable prototype within a 3 to 6 month timespan didn't come to fruition, the opportunity to continue work on this after graduation is a much bigger opportunity to expand my repertoire of talents.
I'd like to take the time also to thank the volunteers who assisted me in developing what I have currently for my Capstone. I'd love to thank the various members of the Source modding community online and generous strangers who would help me fix various issues I'd come across. I'd like to thank Professor David Edward Marks for being so patient and considerate with me and for helping me make my Capstone and my passion project a reality.
VOLUNTEERS
Meet the volunteer developers of Aldebaran Express!
*note: Some members prefer to have their personal legal names undisclosed for the sake of anonymity and security, so therefore some would go by an alias of some sorts used online.
Justin "Jmp" Solomon
My name is (Jmp) and I'm mainly known for creating levels for various Source games. I mainly specialize in level design and creation, however my skills are flexible and aren't limited exclusively to level design, such as programming. I've been working with Telvy for approximately 3 years up to this point for various projects. I was responsible for creating the initial level designs of the Aldebaran station, such as its layout and creating the general layout of each room.
Piotr "Jancias" Sikorski 
My name is Jancias, and I'm a Polish Source Engine level & environmental designer.
A lot of these stories begin with initial interest in Valve games, so i'll skip that part, as most people probably know how they go. I began my "career" in 2016, when I was thirteen. I rapidly progressed through making a small joke mod, to working on a remake of a classic Half-Life mod. 
I specialize in what is commonly known as "making pretty things". I'm a level designer, and an environmental artist, though I'm delving into things like texturing and model creation. I'm basically a do-all-yourself kind of person. I've joined up with Telvy after he reached out to me, offering me a position on his team. My first assignment was to revamp a map that was abandoned by one of Telvy's previous LD's. I took it upon myself to make it look pretty, and I think I did it quite well. 
I was one of the first people to know that Telvy is shutting down his previous project. I didn't really think much of that, and I went along. While brainstorming a new project idea, he brought up a mod about a gas station in space. I thought it was a literal gas station so I supported the idea. I was VERY wrong- though not dissatisfied, I liked the premise. I was tasked with a good bit of things, like creating a cryo sleeping chamber. A lot of the things I've been given so far were very fun to work on, and I'm looking forward to working with Telvy in the future.
Irina "Alfox"
Hello! My real name is Irina, my creative pseudonym is Alfox. I am a 3D artist of stylized characters from Ukraine.
For Aldebaran Express, I'm making a beautiful character Patty Petrinova. Unfortunately, due to the war, I was not able to submit the work within the agreed time, and here I really want to note with what understanding Telvy reacted to my situation. In the early days, when my city still had electricity and communications, Telvy, as a person and as a leader, gave me great moral support.
I understand how it is unacceptable for development to delay the deadlines for such a long period. And to be honest, all the time that my city was under blockade with destroyed communications, I was more worried not about my possible death, but about the deadline. Now I'm safe and I'm very excited to be back in development.
I hope you enjoy the character I made. Separately, I would like to note Telvy's non-aggressive and "softly" management, which made me want to try to do my job even better.
Peri Gonzalez
I'm a potato
Luichemax
I'm luichemax, I'm a long time illustrator, lover of anime and video games. I specialize in color and character design, I made some characters and did some character designs.
Fata Morgan
My pen name is Fata. I am from Indonesia. I am 22 years old, I own an art studio and studied Design. Character Design is my specialty. I have done few characters design for Patty Petrinova, Dough Skinner, Keisha Williams and Foreman Purtle
Annie Wu
Jordan Pritchard
Hi, I'm Jordan, but you can call me "just wax". I'm what some would call a general creator. I make all kinds of different things in pretty much any medium that I feel like making things in, but if I had to pick one or two things I specialize in, I'd have to say that I specialize in the creation and realization of big ideas and concepts, almost an auteur of sorts. I have skills in a lot of different fields, which allow me to fit in to almost any role that needs filling. Though I've known about Telvy and his work for some time, due to mutual environments and acquaintances, Aldebaran Express is the first project I've worked with him directly on. My contribution, though minor, was the creation of the starscape and star of Aldebaran that exists outside of the playable area.
Michał "Fakerac" Łabuś
Hello my name is Michał Łabuś, I'm a Tools and R & D developer with a generalistic background, I come from Poland, Śląskie (Silesia) Voivodeship. I mainly do R & D, and I do all sorts of things in different languages be it scripts, or bots, but my main passion is technical art and developing new technologies and tools. I worked on a UE framework to base future games Telvy works on, hopefully utilized to port Aldebaran Express into it someday. he UE framework is still in development actually, and Telvy has had plans to sometime in the future move to it once it's stable, and is meant to serve as ground for the future
Balder "Nexer" Bordetas
Hello my name is Nexer, I am a 3D Artist. I never worked with Telvy before in the past but I wish I did earlier. I did some Food models and the cryo-sleep bed.
Charlie "1950s Man" Smee
Ahoy hoy! My name is Charlie, but you can call me 1950s Man. I've worked on texturing for just under a decade and worked with calve materials for about 2 years. I've worked on multiple projects in source, many of which didn't come to fruition but most involved texture and brush work. In Aldebaran Express I was the solo texture developer who made the base textures of the early version of the game.
Sitkinator
Hi, i'm sitkinator and I'm a graphic designer for Aldebaran Express. I currently specialize in graphic design atm, but I'm trying to figure out drawing/3d modeling. I've done some logos for Aldebaran Express, specifically the Aldebaran Express employee badge and company logo.
Maciej "Mr Binka" Kamiński
My name is Maciej Kamiński AKA "Mr Binka" and I'm from Poland. I'm interested in video games development and technology related to it. I originally never planned to do anything related to modding or game development and honestly I could say that I joined the Source modding community completely accidentally. When it comes to modding I like to know something about everything, basically all the knowledge required to make a mod yourself, but I guess I specialize mostly in programming. I worked with Telvy on a previous mod project doing mostly programming, but I also did some other tasks like doing some simple models or porting stuff to the Source engine. As for Aldebaran Express, so far I have worked on UI related stuff.